Serves two
Takes 15 mins
No special equipment needed
A good salad, unlike a good man, isn't hard to find. Take something green, something from the sea, an avocado, something sprouting and something fermenting, and drown them in dressing; there you have my basic rules for assembling magic meals in minutes. Of course, you don't need to use every one of those elements every time. This salad uses four out of the five and shows you how it's done.
50 g or 1 cup dulse
2 avocados
100 g or 1 cup broccoli
25g or ½ cup alfalfa sprouts
3 tbsp flaxseeds
2 tbsp hemp oil
½ tsp salt
1 tsp purple corn extract
1/2 lemon, juiced
½ tsp chilli powder
Rinse the dulse and put it in a large bowl. Half the avocadoes, remove the stones, cube the flesh, and spoon it out into a bowl. Fine chop the broccoli into bite-sized pieces. Add all the remaining ingredients to the bowl and give it a good mix with a spoon.
Taken from Raw Magic, published by Process Media 2012
Related Products:
Alfalfa Seeds, Flax Seeds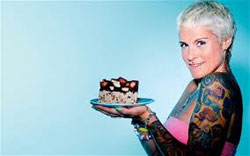 Kate is the most experienced raw food promoter in Europe today. She has two decades of experience of raw eating, and is raising her three sons on the raw diet. She is the author of four raw lifestyle books, and tours internationally giving talks and workshops on raw foods.
Kate is Creative Director of the Raw Living website which carries the biggest range of raw foods and superfoods products in Europe. She has created over 20 unique products for the Raw Living brand, including chocolate bars, trail mixes, cakes, teas and skin creams. Kate's Magic Bubble is her subscription website where members access exclusive content such as articles, interviews, recipes and videos, and which gives fans an opportunity to connect and to ask Kate questions personally.
Kate is driven by a passionate desire for change in this world. She believes raw foods and superfoods to be an important tool to unlocking our inner potential and empowering ourselves as individuals to create the cultural renaissance that is so urgently needed at this time.