Serves four
Takes 15 mins
You need a food processor
You can use any combination of vegetables that you have to hand e.g. broccoli, mushroom, celery, carrot. This recipe can be used as a dip with crudites, as a filling for nori sheets to make raw vegan sushi, or it's particularly wonderful as a stuffing for peppers.
300 g (10 oz) mixed vegetables
small bunch parsley
½ onion
125 g (4 oz) sunflower seed sprouts
2 tbsp flaxseed oil
2 tbsp lemon juice
2 tsp tamari
1 tsp ground cumin
½ fresh red chilli pepper
2 cloves garlic
Chop vegetables, parsley and onion to prepare them for your machine. Put everything in the food processor together, and mix for a couple of minutes until it's evenly mixed into one creamy mass . Leave a bit of texture in it, it's nicer left a bit crunchy rather than completely smooth.
Taken from Eat Smart Eat Raw, published by Grub Street 2013
Related Products:
Sunflower Seeds (hulled)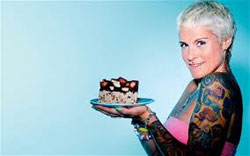 Kate is the most experienced raw food promoter in Europe today. She has two decades of experience of raw eating, and is raising her three sons on the raw diet. She is the author of four raw lifestyle books, and tours internationally giving talks and workshops on raw foods.
Kate is Creative Director of the Raw Living website which carries the biggest range of raw foods and superfoods products in Europe. She has created over 20 unique products for the Raw Living brand, including chocolate bars, trail mixes, cakes, teas and skin creams. Kate's Magic Bubble is her subscription website where members access exclusive content such as articles, interviews, recipes and videos, and which gives fans an opportunity to connect and to ask Kate questions personally.
Kate is driven by a passionate desire for change in this world. She believes raw foods and superfoods to be an important tool to unlocking our inner potential and empowering ourselves as individuals to create the cultural renaissance that is so urgently needed at this time.