Get in touch
Drop us a note and we'll get back to you as quickly as possible.
How to find us
We'd love to hear from you! Whether you want to know how we grow or why your wheatgrass is growing fast we'll do our best to help in any way we can. You can contact us at :
A S Organic Ltd
T/A Aconbury Sprouts
Courtlands, Allensmore
Hereford, HR2 9AB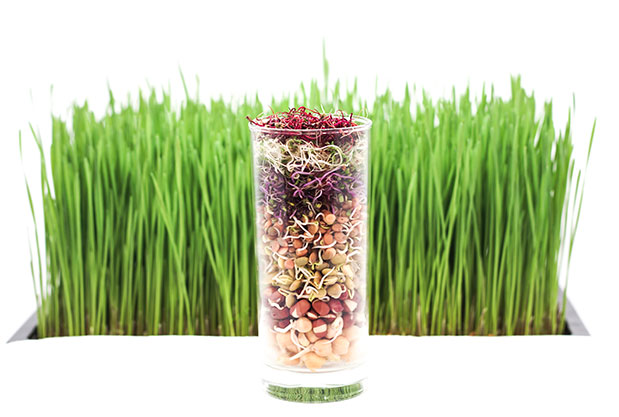 We love living foods!
Here at Aconbury we are truly passionate about providing the best quality, natural, living, fully organic foods to our customers. As a small, committed team working in the heart of Herefordshire's Golden Valley, it is our job to provide great products to suit everyone's budget and lifestyle.
All of our plants are lovingly cared for, from planting to dispatch, by people who understand both the needs of our plants and our customers. We don't rely on affiliate schemes, special offers or gimmicks to shout about the good, wholesome work we do here. Pure and simply we let our products speak for themselves.
We hope that you will love them as much as we do! The belief that fresh is always best lies at the very heart of our values. Our wheatgrass is genuinely live and packed with all of the benefits that brings.
Our team
Leading from the top, Alina makes sure we can deliver the best possible service to our clients. She heads up the team, ensuring that we provide the right products, at the right cost, without compromising on quality.

Having taken over the management from Jim early in 2013, Alina is committed to ensuring the Aconbury brand grows from strength to strength, whilst staying true to its roots.

Nicky is passionate about living foods and will happily speak with you about it to your heart's content. Wheather it's ready grown Wheatgrass or fun 'grow your own' kit, speak to Nicky and her enthusiasm will undoubtedly hook you!

Claire is the newest addition to the Aconbury family and we love her already, she has settled in so quickly! Such a jolly soul, she has certainly brightened things up!

Claire is here to take orders and answer your questions. She will make you feel at ease safe in knowledge that your order will be delivered when you want it!

Is the core of Aconbury with her magic green fingers, growing and nurturing for all our plants. She is there every step of the way, from tiny seeds to the full and lush trays you recieve. Its Ola who makes sure every plant is healthy, well cared for and ready to use.

Weather it is planting, watering, packing or product testing, Ola gives her full commitment to Aconbury.

Iwona is happy to cover any aspect of Aconbury planting, packing or juicing and always with smile!